Happy Tuesday everyone! It's July 1st and I'm not sweating my booty off outside??? I can't complain with this Kansas weather! I'm so excited to join the famous Mrs. Jump's Class with Book Talk Tuesday. My love for children's literature grows and grows and each year my sweet daughters get older, we discover new treasures to read.
My first book is an oldie but goodie. First Grade, at last! by Barbara Park was the first chapter book I read to my firsties last year and I'm so thankful I made that choice.
EVERYONE loves Junie B.! I loved the fact that she needed glasses and felt self-conscious about them. I had more than one kiddo in my class that could relate to that situation. We discussed it as a class, and it was heartwarming to hear another student say "Well, I love your glasses!" Talk about sweet kids!!
If you have a class full of first graders, then check out my newest unit, Meet The Firsties! This adorable pack includes a sweet banner to hang in or outside your classroom, banner pieces for the kiddos to personalize, interviews to build a relationships between partners, use the graph and tally chart to get to know each other, and best of all, it includes printables to fill out as a class on how to be a great FIRSTIE friend! Grab it while it's on sale until July 4th!!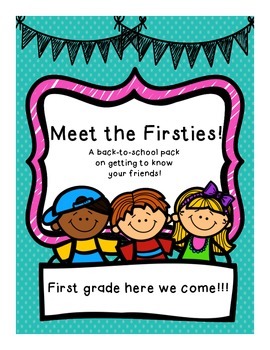 My second book is a favorite of mine at home. This book is so worn and tattered from reading it a hundred times to my sweethearts. I have to be very gentle....and the girls do too! It's called "Mommy Mine" by Jane Chapman.
This story has sweet rhyming words and such detailed pictures! It goes through families of all kinds of animals, from penguins to hippos. If you have a chance to check it out, read it to your babies, at school and at home!
If you save this for Mother's Day next year, then check out my FREE Mother's Day pack. It includes an original poem, word work activities, and a mini book!
Happy Reading!!